An aurora[nb 1] is a natural light display in the sky (from the Latin wordaurora, "sunrise" or the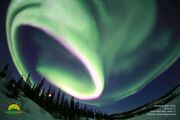 Roman goddess of dawn), predominantly seen in the high latitude (Arctic and Antarctic) regions. Auroras are caused by charged particles, mainly electrons and protons, entering the atmosphere from above causing ionisation and excitation of atmospheric constituents, and consequent optical emissions. Incident protons can also produce emissions as hydrogen atoms after gaining an electron from the atmosphere.
Ad blocker interference detected!
Wikia is a free-to-use site that makes money from advertising. We have a modified experience for viewers using ad blockers

Wikia is not accessible if you've made further modifications. Remove the custom ad blocker rule(s) and the page will load as expected.