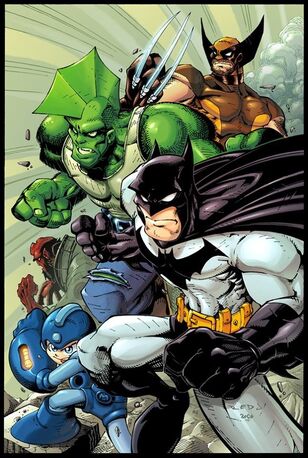 Super Teams
are teams made up of super-
powered
individuals, whether
good
hero-type
Awesomes
or
evil
bad-styled
villains
. The best of the best of other well-known teams often break off to form their own teams, or do temporary missions together, making up a dream team o' bad-assed
beings
.
According to Wikipedia:
"A supergroup is a group whose members are already successful solo or as part of other groups.
In some cases, an act will later be referred to as a supergroup when multiple members from said group end up securing individual fame later on. Supergroups are often short-lived, producing only for an album or two, but this is not always the case as some of the examples shown below demonstrate. They are sometimes formed as side projects and thus not intended to be permanent, while other times can become the primary project of the members' careers."
Characters may even cross over many different dimensions of the Omniverse to do battle and stuff, and are often the subject of some of both the greatest and most rotten fin faction ever known.
Ad blocker interference detected!
Wikia is a free-to-use site that makes money from advertising. We have a modified experience for viewers using ad blockers

Wikia is not accessible if you've made further modifications. Remove the custom ad blocker rule(s) and the page will load as expected.